Todd Seifert, a tourist from Ohio who hit and killed the 34-year old Jesus Andrade, was sentenced to a minimum of 26 months up to 10 years jail time after pleading guilty of the crime.
[Tweet "Seifert plead guilty of the crime and was granted a lenient sentence"]
According to investigators, Seifert was speeding more than 60 miles per hour when he hit the Las Vegas man. Andrade, who was a construction worker, was crossing Las Vegas Boulevard on the way to work when the incident occurred. Seifert left him for dead on the road.
Seifert, who was driving a rental car, told the rental company that he had hit a garbage can. He paid the $2,000 fine and quickly flew back to Ohio. He was caught by the authorities after a while.
Gabriela Rodriguez, Andrade's wife, says she remembers getting the call about the incident around 3:30am that her husband was struggling for his life. Andrade later died on the same day. Her family want justice for Andrade's death.
Seifert later plead guilty of the crime and was granted a lenient sentence. He claims he wasn't asking for leniency, but his Attorney Ross Goodman did. Add to that, Goodman claimed that his client panicked that is why his client left the scene almost immediately.
Andrade's family and the detectives who worked the case are disappointed with the judge for imposing a lenient sentence to Seifert.
Seifert does not have a criminal history. Goodman says his client's career as a chemist is ruined due to his hit-and-run charge.
https://www.youtube.com/watch?v=1BUQ9Oa77Kg&feature=youtu.be

(Courtesy of Nexstar Broadcasting, Inc. All rights reserved.)

The original police report can be seen on the image below.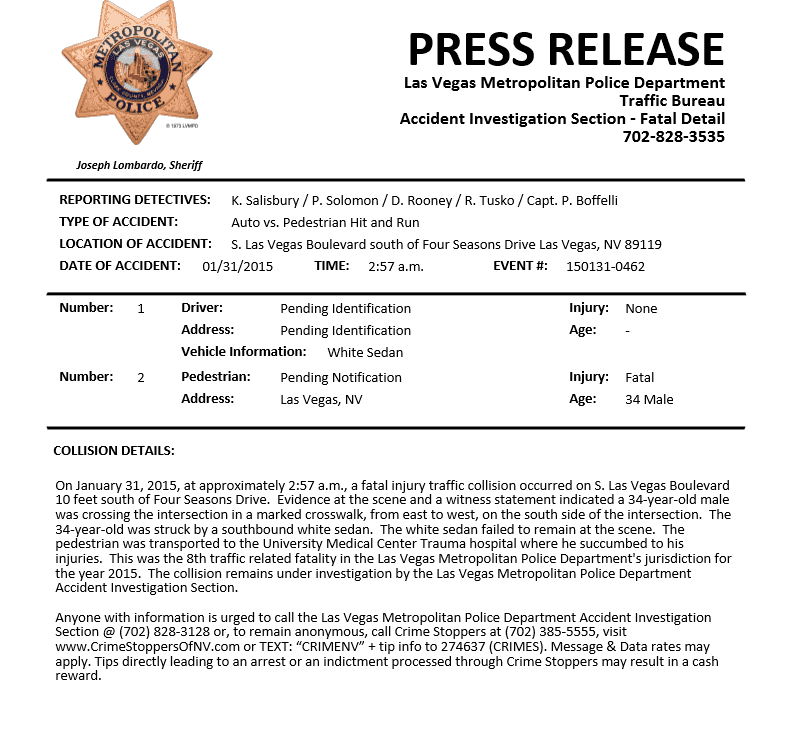 ---
Related Read
Hit and run in Las Vegas
Las Vegas Arrests – Crimes and Penalties