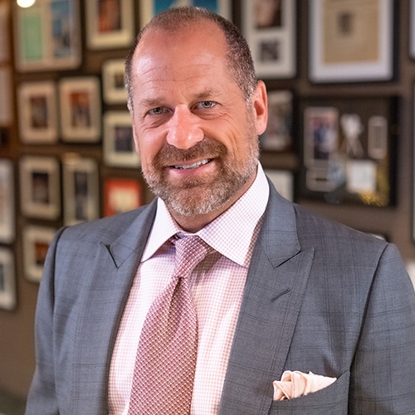 Ross Goodman
Bio
Ross Goodman is proud of his Las Vegas roots. He knew he would return to Las Vegas after concluding his commitment with the U.S. Marine Corps Reserves (Major) to continue the legacy of his father, Oscar B. Goodman, one of the leading criminal defense attorneys in the U.S. and 3 time Mayor of Las Vegas, and his mother, Carolyn Goodman, who is currently serving in her third term as Mayor of Las Vegas. Ross Goodman said that "his parents tenure as Mayor of Las Vegas is historical representing the first time a family has been in charge of a major city for 25 years." He understands that most people come to Las Vegas for "fun, to get crazy and even outright debauchery." However, he is quick to add that "this popular image of Las Vegas as America's adult playground even has limits." The hotel and casino industry and, the clubs within, are heavily regulated with a high level of cooperation with law enforcement.
As a result, Ross says about 60% of his clientele are from around the world arrested for charges ranging from drug possession, DUIs, domestic violence, indecent exposure and disorderly conduct. Ross has been successful in getting 100s of cases Dismissed and a series of Not Guilty verdicts. Ross credits his success to his work ethic, attention to detail, and his never ending passion to "leave no stone unturned" in providing the best defense for his clients.
Las Vegas Criminal Defense Attorney Ross Goodman specializes in these serving clients charged with these Criminal Offenses:
DUI / DWI / Drunk Driving / Driving Under The Influence
If you are charged with DUI in Las Vegas, there are many ways to counter the charge. Attorney Ross Goodman investigates the scene of the charge or arrest and defends by looking at the facts, usually, the police and the clinic lab results are inaccurate, and this level of expertise can only be found in experienced DUI attorneys like Ross.
Drug Crimes
Las Vegas is sometimes misunderstood to be a city that tolerates some level of recreational drug use of Marijuana, Heroine, Meth, Cocaine and the likes — This is entirely untrue and infact Las Vegas has very strict laws and punishment to those who are found using Drugs illegally. If you are charged with a Drug Crime, do not take it lightly.
Domestic Violence
Domestic Violence, Battery and Assault are difficult cases as there is often a lot of misleading testimony by jealous spouses, couples, girlfriends and boyfriends. Only the most experienced criminal attorney can handle this level of deceit, lies and accusations. Las Vegas Domestic Violence Attorney Ross Goodman knows how to approach your case to the Las Vegas courts and get you your chance of defense against such charges.